Joseph Bolitho Johns "Moondyne Joe"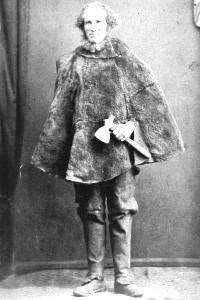 Moondyne Joe, 1880.
Courtesy Hesperian Press and Ian Elliot.

1831 
Born somewhere in United Kingdom (exact location not known).
1848
A police sergeant stopped Joe and his travelling companion near Monmouth in Wales, suspicious of the fact that they were out on the open road at 2.30 a.m. When questioned, their answers seemed unsatisfactory. They were taken to a nearby dwelling, and the bags they had with them opened up. These were found to contain:
several cheeses
3 loaves of bread (one partly eaten)
2 pieces of bacon
part of a shoulder of mutton
a piece of suet (hard animal fat)
The sergeant arrested them for suspected theft. About two days later it was discovered that exactly the same items were reported as stolen from a house in the area. Joe and his accomplice, William Cross, were committed for trial.
1849 - 1853
Joe served the first 4 years of his sentence in various English prisons before being transported to Western Australia (Edgar: 12-24).
1852
Joe's accomplice, William Cross, was transported to Hobart in March 1852 under his real name, John Williams. He arrived there in July (Edgar: 52-55).
1853
When he arrived at Fremantle on Saturday 30 April 1853 aboard the convict transport Pyrenees with 291 other convicts (a further 3 convicts having died during the voyage), he was issued with his ticket of leave and the Imperial Convict number 1790. He disembarked the next day to begin his new life and to find work in the colony.
1853 – 1855
Worked without incident as a ticket of leave convict in the colony (exactly where is not known).
1855 - 1861
Freed and conditionally pardoned, he worked at various tasks, including stock trapping near Moondyne Springs in the Toodyay District, managing to avoid trouble during this time.
1861
Arrested and charged with stealing a horse near Toodyay, he escaped from the lockup on the horse he was accused of stealing, using the local magistrate's brand new saddle and bridle — much to the annoyance of the authorities. He was at large for 2 days before being tracked down and re-arrested.
Charged with various offences, including the more serious one of horse stealing, he was found guilty of the lesser charge of prison breaking and sentenced to serve "three years penal servitude".
Joe was transferred to the Convict Establishment at Fremantle, registered as colonial convict number 5889 – his personal possessions, including a blue slop, a flannel shirt, a pair of fustian trousers, a pair of boots, a felt hat and a small tooth comb, were sold off according to official practice, raising 3 shillings and 2 pence (about 34 cents). (Elliot: 27)
He was assigned to the North Fremantle convict work party and eventually earned a remission of his sentence that saw him discharged to the Mount Eliza Convict Depot (Perth).
He was released on a ticket of leave, eventually finding work as a charcoal burner until June when he returned to Newcastle (near Toodyay) where his certificate of freedom was delivered in August.
1865
The Ox Bright Incident — he was arrested on a charge of "killing an ox with felonious intent"; at his trial he was found guilty and sentenced to "ten years' penal servitude". Joe protested his innocence over this matter at the trial and throughout the rest of his life.
His personal possessions "listed as 1 Pair of Trousers, 1 Blue Serge Shirt, 1 Pair of Boots, 1 Strap and 1 Old Felt Hat" this time raised only 1 shilling & 6 pence (about 15 cents) at auction. (Elliot: 43)
Returned to the Convict Establishment (Fremantle Prison) once again, Joe was registered this time as colonial convict number 8189.
Transferred in early November from the Convict Establishment (Fremantle Prison) to the Canning Flats convict work party, he escaped after just one week, but was recaptured towards the end of the month, receiving an additional 12 months to his sentence.
1866
Returned to the Convict Establishment (Fremantle Prison) and placed in irons, he petitioned the comptroller-general of prisons and his case was reviewed. In April he was granted a 4 year remission on his 1865 sentence of 10 years.
In July he attempted to escape again, but was foiled; for this he received a further 6 months in irons.
In August he succeeded in breaking free once more.
On 5th September Joe, and two other escaped convicts, planning to travel overland to Adelaide, broke into Everett's store in Toodyay. They ransacked the place stealing "boots, blankets, clothing, guns and ammunition, knives and rations" (Erickson: 238) in order to equip themselves for their proposed expedition. Everett, himself a former convict, was known to Joe, having been transported to Fremantle on the same ship. Such was the effect of the burgulary that two weeks after it, Everett announced the closure of the store. (Erickson: 238)
Before Joe and his companions could put their plan into operation, however, they were all recaptured, 322 kilometres east of Perth, at Bodallin Soak near Westonia on September 29 (Edgar: 48). This escapade saw the name Moondyne Joe appear in public print for the first time, when reported upon by The Enquirer newspaper of 8 th August.
Back in the Convict Establishment (Fremantle Prison) by 9th October, Joe was "arraigned before the Fremantle Bench [and] …sentenced to [a further 5 years]…2 years hard labour for the escape and 3 for the robberies". (Elliot: 86)
At this time so many convicts were absconding from custody that a special cell, reinforced in various ways, was constructed at the Convict Establishment (Fremantle Prison) in which to hold them; Joe inevitably ended up inside it.
1867
During this confinement his health began to suffer. On the orders of the doctor, Joe was given daily exercise breaking stones in a Prison yard near the perimeter wall; the broken rock was supposed to be removed at the end of each day, but his guards overlooked this procedure; slowly the pile of rock grew so that it obscured him as he worked. At 5 pm on March 7 when the guards checked, Joe had cut a hole through the west wall at the front of the Prison letting himself into the back yard of Superintendent Lefroy's house which backed up against the Prison wall. From there he passed through an unlocked "side door to the front of the prison…[and]…safe transit to the neighbouring bush…". (Elliot: 90)
He remained at large for almost 2 years despite extensive searching soon after his escape.
1869
On February 25 Joe broke into Houghton's vineyard in the Swan Valley. Unknown to Joe, police officers were at work nearby recovering the body of a man, the victim of a drowning.
Joe hid in the vineyard cellars waiting his chance to make off with goods stolen, once the coast was clear.
Unluckily for him, at 1 a.m. on the 26 February the owner of the vineyard brought the police officers back to the cellars for a social drink, a reward for their work in recovering the body of the drowned man. Dashing past the owner and trying to escape, Joe literally ran into the surprised long arms of the law as they were about to enter the cellar.
Shortly after his recapture he was charged with escaping from legal custody and "sentenced to twelve months additional imprisonment in irons, six months of which were to be passed in strict separate confinement." (Elliot: 114)
For breaking and entering premises at Houghtons "he received a sentence of three years in irons." (Elliot: 114)
At this point he was not due for release until sometime in 1884.
1870
January – after petitioning the comptroller-general of convicts with his case, he was granted a remission of 5 years' gang labour.
In September he was released from irons for the first time in 18 months.
1871
February 21 – whilst working in the carpenter's workshop he was suspected of secretly "…filing a key for his cell. Upon being discovered he managed to hurl both key and file over the prison wall…In the absence of [evidence] the visiting magistrate had no option but to dismiss the charge of attempted escape brought against him." (Elliot: 115)
April – Joe was interviewed by the Comptroller General of Convicts, Henry Wakeford, and recalled how Governor Hampton had promised him (Joe) freedom if he could escape from the special cell for absconders. The Assistant Superintendent of the Convict Establishment, Henry Lefroy, was able to confirm Joe's story, recalling the Governor's exact words: "If you get out again I'll forgive you."
After further investigations it was decided to grant Joe a ticket of leave and send him to the convict Depot in the Vasse district. "If he stayed out of trouble for four years, he was told, he could expect a conditional pardon." (Elliot: 115)
May 13 – he sailed for Busselton in the Vasse district.
During this time Joe continued to petition the authorities for a certificate of freedom.
In the meantime his sentence was reduced by a further 12 months and Joe received permission to move to Bunbury.
1872
August – Joe was back inside Fremantle Prison, this time sentenced to 1 month for minor offences and was discharged to the Fremantle Convict Depot.
1873
Having completed serving his 1 month sentence, he found employment with a carpenter in the Fremantle/Perth area. Finding the work congenial, he settled down to it.
27 June – his certificate of freedom was approved and issued.
1879
January 16 - he married a young widow, Louisa Hearn, at the Johnston Memorial Congregational Church in Fremantle (Joe was in his early fifties, Louisa was 26).
Joe lived for another 21 years after these events, during which time he was in and out of trouble with the authorities, but was never sentenced to imprisonment. He served one last prison sentence near the end of his life, in a final bizarre twist to the conclusion of his saga.
On 26 January 1900, when he was well into his seventies, Joe was found wandering the streets of South Perth and taken into custody "being of unsound mind." At the Court of Petty Sessions the next day, he was ordered to the Mount Eliza Invalid Depot for medical attention. The irony was that Joe had escaped from the very same buildings that once served as a convict depot during the 1860s. In January 1900 he absconded three times, possibly not realising in his confused state of mind, that the site now no longer served its original purpose as a place of detention. On 6 March 1900 he was sentenced to one month in Fremantle Prison without hard labour, for absconding from legal custody. He died five months later at Fremantle Lunatic Asylum, making his final great escape on 13th August. He was buried on 15 August 1900 in a pauper's grave (number 580A) that can be seen at Fremantle Cemetery (Edgar: 51).
REFERENCES
Elliot, Ian. Moondyne Joe: the man and the myth. Perth: University of Western Australia Press, 1978.
Erickson, Rica (ed). The Brand On His Coat: biographies of some Western Australian Convicts. Perth: University of Western Australia Press,1983.
Edgar, W.J. The Life and Times of Moondyne Joe Swan River Colony Convict, Joseph Bolitho Johns. Tammar Publications and the Toodyay Tourist Centre, 1990