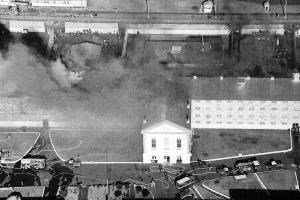 Fremantle Prison aflame during prison riot,1988.
Courtesy of West Australian Newspaper
Changes were made to conditions in the Prison following the Royal Commission held in the 1890s. The two most dramatic of these were the enlargement of the cells — originally 4' x 7' (1.2 x 2.1m) - by knocking down a wall between two cells and the erection of walls in the cell range to allow for the classification of prisoners. Workshops were also constructed in an attempt to provide more work opportunities for the men now held within the walls.
In 1907 New Division was opened. Its construction was a reaction to an increase in crime which followed the population explosion caused by the 1890s gold rush. There was also pressure to implement different penal systems and the construction of a new cell block allowed for this.
During both world wars, the prison was taken over by the Australian Army and used as a military prison as well as a place for the internment of some enemy aliens and POWs.
Over the century various work, education and recreation facilities were provided, but it became increasingly difficult to accommodate 20th century prisoner management systems into a 19th century building which had been designed as a type of barracks.
In 1983 the Western Australian State Cabinet resolved to close Fremantle Prison as soon as appropriate facilities could be provided, planned for the end of the decade. It was also decided to investigate possibilities for the future use of the Prison. In making the decision to close the Prison Cabinet acknowledged that the site offered tremendous possibilities for imaginative uses whilst maintaining the integrity of the historic development. When the site was finally decommissioned in 1991, a number of heritage management strategies were put in place. This allowed for the historic significance of the place to be maintained while allowing it to continue as a useful community enterprise. The site has over twenty buildings and a number of these are now offered to tenants including tourism, education, community and commercial ventures.
Fremantle Prison is managed by the Department of Planning, Lands and Heritage. The Minister is guided on matters of policy and procedure by the Heritage Council WA. All management and development decisions are guided by the Burra Charter (Australia ICOMOS Charter for Places of Cultural Significance) and Fremantle Prison: a policy for its conservation (James Semple Kerr, 1998).